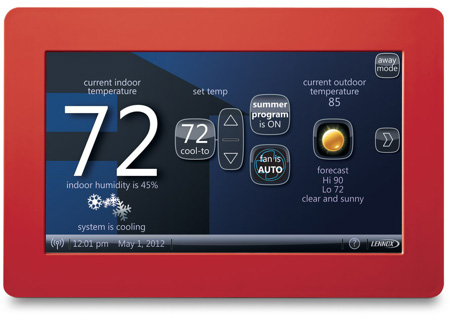 Lennox iComfort WiFi Thermostat
So simple. So smart. So comfortable.® The icomfort Wi-Fi™ thermostat lets you set your home's temperature and save energy from anywhere in the world, using a smartphone, tablet or laptop. Remote access, along with live weather forecast and automatic updates, offers a level of convenience that goes degrees beyond what's possible with a standard thermostat
Check and control the temperature from anywhere using a mobile device.
Thanks to its Cloud connectivity, the icomfort Wi-Fi™ thermostat lets you monitor and adjust your home's temperature from anywhere in the world with any smartphone, tablet or other Web-enabled device. Choose from two different ways to link to the Cloud and harness the innovation and energy-saving power of the icomfort Wi-Fi thermostat: the icomfort app and the icomfort Dashboard.
Save simply. Electricity usage in a home can cost hundreds of dollars a month in utility bills. In some cases, this can amount to an entire house payment. Most of this cost, up to 56%*, comes from your heating and cooling. The icomfort Wi-Fi™ thermostat gives you a simple way to reduce your home energy costs, even when you're at work or on vacation. *Source: U.S. Dept. of Energy
One-touch away mode
overrides your regular programming schedule when you're away and automatically turns down heating or cooling to save energy.
Simple touch screen interface
Acts like the products you use every day. You just touch where you want to start, and you have instant and easy access to the many innovative possibilities of the icomfort Wi-Fi™ thermostat.
weather-on-demand
Provides the forecast right on the screen. Touch the weather icon to see the 5-day forecast.
Alerts & reminders
sent to you via email, or accessed through your mobile app, tell you if there's a problem with your system or maintenance is required. With your permission, messages can be sent to your Lennox Dealer.
System compatibility
Allows easy integration with any Lennox or third-party indoor or outdoor unit.* You can optimize performance if installed with a premium Lennox® system.
Customizable Skins
Allows you to cover and protect your thermostat with your choice of artwork, a family photo or a color that blends in with your décor or the screensaver on your thermostat. optional accessory. Browse hundreds of designs at GelaSkins.com
Remote Access
Cloud connectivity lets you adjust temperature and control energy costs from anywhere, using your smartphone, tablet or laptop.
Watch the video