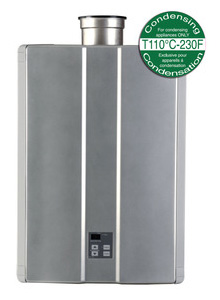 Rinnai RU98i Tankless Hot Water Heater
Rinnai RU98i Propane Indoor Tankless Hot Water Heater – Rinnai has improved upon their last offering in that they now have included a built-in Circ-Logic (TM) recirculation program that is capable of cycling an external pump (sold separately) at preset intervals and temperatures to maximize efficiency and comfort.
ENERGY STAR® Qualified
Energy Factor of .95 for Natural Gas and Propane
Built-in Rinnai Circ-LogicTM recirculation program cycles an external pump at pre-set intervals and temperatures to maximize efficiency and comfort (see brochure for more details)
Enhanced scale detection lessens possibility of serious, long-term damage to unit
Temperature lock function prevents accidental or unauthorized changes to water temperature
Leak detection shuts off water to the interior units to limit property damage
Complies with South Coast Air Quality Management District 14 ng/J or 20 ppm NOx emission levels
Dimensions
Width: 18.3 Inches Height: 26 Inches Depth: 10 Inches
Weight
61.7 Pounds
Ignition
Direct Electronic
Hot Water Capacity
0.26 to 9.8 GPM
Minimum Activation Rate
0.4 GPM
Minimum/Maximum Gas Rate (Input BTUs )
15,200 – 199,000
Energy Factor
0.95 for Natural Gas and Propane
Energy Star
Yes
Approved Gas Types
Natural Gas or Propane
Temperature Settings
98°F – 140°F with MC-91-2US 98° F – 185° F with MCC-91-2US
Type of Controller
MC-91-2US (included) MCC-91-2US (optional for Commercial or Hydronic Applications) MC-100V-1US Deluxe Controller (optional) BC-100V-1US Bathroom Controller (optional)
Ultra Lox NOx
Yes
Electrical
AC 120 Volts, 60 Hz
Electrical Consumption
Normal: 64 Watts Standby: 2 Watts Anti-Frost Protection: 146 Watts
Service Connections
Gas Supply: 3/4 Inch MNPT Cold Water Inlet: 3/4 Inch MNPT Hot Water Outlet: 3/4 Inch MNPT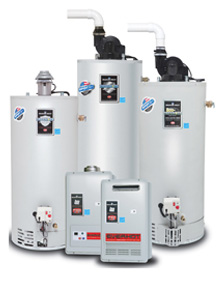 Bradford White Residential Hot Water Tanks
Bradford White's innovative line of water heaters now offer ENERGY STAR® qualified models for Atmospheric Vent, Power Vent, Ultra Low NOx Power Vent and Tankless applications.
ENERGY STAR® Qualified
Minimum Energy Factor (EF) of 0.6 as of September 1st, 2010.
Minimum First Hour Rating (FHR) of 67 gallons
Annual energy savings of 14%*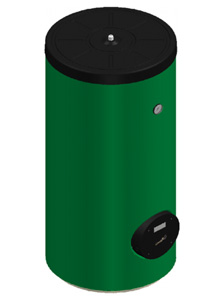 Eco-King Indirect Storage Tank
Unprecedented quality, price and performance! Eco King Indirect Water Heaters are made of highest quality AISI 316 Stainless Steel and are welded with TIG and Plasma technology that guarantees maximum quality and durability.
Simple installation with tappings on one side
Inspection and cleaning via 5″ inspection hatch on front of tank
Large coil ensures industry leading hot water productions
Limited Lifetime Warranty
Highly efficient with large hot water production rates
Variety of models and sizes in single and double coil as well as storage tanks
All stainless steel tank and coil
Levelling legs included
Included temperature thermistor connects directly to Eco King boiler. Ensures accurate temperature readings and efficient boiler operation
Coil extends to bottom of tank, important for consistent water temperature