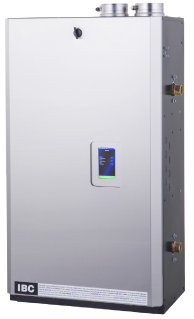 IBC SL 20-115 G2 Condensing Boiler
If you are looking for a quality, Canadian made, high efficiency condensing gas boiler, the IBC SL 20-115 G2 condensing boiler would be the ideal fit. We have professionally installed many of these quality boilers with excellent results.


With Supply and Return connections on both sides of the IBC SL 20-115 condensing boiler your installation can't get any easier. Use the left side, the right side or both, the choice is yours.
New Touch Screen Boiler Controller
– Express set up – Remote monitoring & diagnostics.
– Easy USB programmability – True native BACnet Intuitive alert system.
– Easy homeowner DHW temp adjust.
Built-in 4-load priority management and switching.
Connect your IBC Indirect Water Tank directly to the boiler without a primary loop.
Industry leading turndown ratio of 5.75 : 1 means you have the power to heat your home in the coldest weather yet reduce short cycling when the weather is mild.
Built-in outdoor reset control of water temperature.
Better efficiency 95% AFUE.
Very low water side and combustion side pressure drops.
Venting up to 480 feet.
Left and right clearance as low as 1″.
Limited lifetime residential warranty.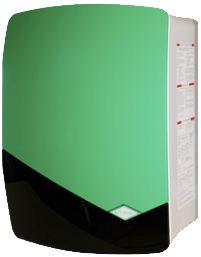 Eco-King Boiler
Eco-King high efficiency condensing boilers are European engineered to provide years of problem-free operation.

European engineered fully modulating wall hung condensing boiler.
95% efficient and 6 to 1 turndown ratio.
Revolutionary gas adaptive valve with NO adjustments needed when at high altitude or using different gases (LP or NG).
Integrated and included variable speed Grundfos 15-58 pump and 11L expansion tank in all boilers. Eliminates the need for two external pumps and near boiler piping is simple.
Seamless integration with Eco King Indirect Water Heaters via temperature thermistor included on Eco King tanks.
All units have integrated DHW priority and outdoor reset sensor included.
CSA and Energy Star certified.
Remote monitoring capability (extra parts required).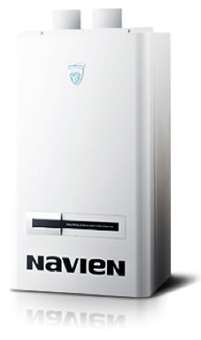 Navien Condensing Gas Combination Boiler
Navien's Condensing Combi Gas Boiler/
Water Heater
is equipped with dual stainless steel heat exchangers, making it efficient and economical. The Combi offers a low cost PVC venting solution for faster, simplified installations. PVC is durable and easy to assemble.
Super condensing efficiency.
Dual stainless steel heat exchangers.
Low NOx emissions (≤20ppm).
SCH 40, 3" PVC venting up to 100'.
Gas-Air Ratio Control.
Automatic water filling system.
Remote controller included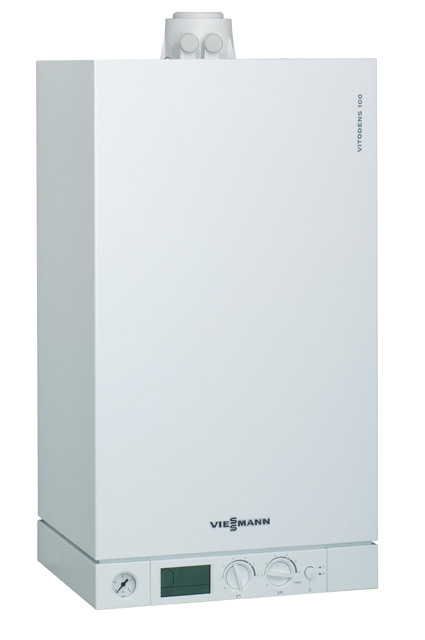 Viessman Vitodens 100 – W

The perfect mix of performance, quality and value, the Vitodens 100-W gas-fired wall-mount condensing boiler is ideal for any home and any budget. With added product features, the new generation of this popular boiler now offers even greater versatility and choice.
Fits Any Home and Budget with high performance at an attractive price.
Outstanding Efficiency of 95.2% A.F.U.E. on all models.
Lasting Performance with industry-leading Viessmann made SA240 316 Ti stainless steel Inox-Radial heat exchanger constructed to CSA B51 and ASME Section IV.
Low-Emission Combustion with Viessmann made stainless steel MatriX cylinder burner for natural gas or propane. Factory calibrated.
Viessmann made stainless steel MatriX cylinder burner
Versatile On-Board Boiler Control interfaces with most external controls. Now with integrated 0-10V and OpenTherm® communication ability. Outdoor temperature sensor standard.
Greater Venting Flexibility with increased vent length (up to 200') and multiple venting options
– Horizontal or vertical sealed combustion coaxial venting (factory supplied).
– Horizontal, vertical or hybrid sealed combustion double-pipe venting (field supplied).
– Horizontal or vertical single-wall venting (field supplied).
Suitable for Altitude Levels of up to 10,000 ft. / 3000 m.
Easy Installation, Service and Maintenance with all pipe connections located at the bottom and serviceable components easily accessible from the front.
Extremely Quiet Operation; quieter than most refrigerators.
Compact, Lightweight Design and zero clearance to combustibles.
Built-in Automatic Frost Protection prevents freeze-up during long shut-off periods.
Limited Lifetime Warranty in residential applications.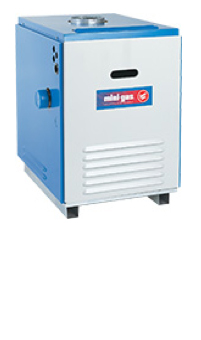 MG Mini-Gas Boiler
Allied Engineering is extremely proud of the popular compact Mini-Gas series that is ideal for today's energy efficient home, condominium or townhouse. Mini-Gas Hydronic Heating Boilers are manufactured to the highest standard for performance, efficiency, reliability and user-friendliness.

PERFORMANCE
Proven performance is provided by our stringent quality control procedures and years of experience in building boilers to ASME standards. Our rugged industrial design is a durable and long lasting solution to your heating needs.
EFFICIENCY
The key to the boiler efficiency is our unique DOUBLE-PASS steel finned tube heat exchanger. Using the strength of 2" OD boiler tube, our engineers have greatly increased the heating surface by spirally and continuously welding a ½" fin to each heat exchanger tube. The result is one of the most efficient atmospheric boilers on the market today.
RELIABLITY
Over 50 years of water heating experience backed by unsurpassed service ensures customer reliability. A Mini-Gas boiler, as your heat source, will keep you warm and comfortable when there is a call for heat. Scientifically designed roll formed high-grade stainless steel burners will give you years of trouble free service combined with energy efficiency. Tested and approved to 160 PSI working pressure.
USER FRIENDLINESS
All controls and devices are factory wired. A nice feature is a molex plug used as a quick connect for the vent damper. Connection of the blocked vent safety switch to the draft hood simply clips on. Most user-friendly is our packaged boiler that includes the circulator pump mounted to a custom cast iron adapter and prewired to the zone control board. Also, the cast adapter will accept a temperature gauge (i.e. ¼" NPT) to accurately monitor return water temperature.
ZONE CONTROL BOARD
An innovative zone control system has four separate plug-ins for zone valves and L.E.D. display lights to show which zones are being heated. Additional zone control boards can be installed to increase the zone capabilities.
WARRANTY PROTECTION
Manufactured to the highest standards, employing only top quality materials and workmanship our proven design features a ten-year warranty on the heat exchanger and one-year on all parts and controls. Please refer to printed warranty for details. Installation operating and maintenance instructions supplied with every boiler.
MINI-GAS Series boilers are available in five compact sizes: 50,000, 75,000, 100,000, 125,000 and 150,000 BTU/HR input in standard or packaged models.
All models are available with our unique factory mounted and wired ZONE CONTROL BOARD.
Minimum clearance of 2" to combustible surfaces on both sides and rear.
All MINI-GAS boilers are approved for installation on combustible floors. There is no extra base or added cost required.
Approved for closet installations.
Automatic vent damper is standard with AFUE rated boilers. (Annual Fuel Utilization Efficiency of up to 84.65%)
Heat exchangers designed to ASME code standards for industrial steel boilers.
ASME certified manufacturing facility.
Blocked Vent and Flame Roll Out Safety Switch – Standard.
Packaged (PS) models available with many components, some mounted and wired for your convenience.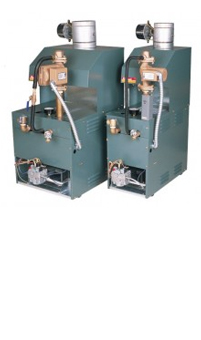 Raypak Hydronic Boiler
Quit struggling with bulky, heavy, out-of-date cast iron boilers. Raypak Raytherm copper fin tube residential boilers are low-mass and have high recovery rates. They're small enough to fit almost any space and fuel-efficient for utility savings. With five sizes to choose from, there is a copper fin tube Residential for every home, apartment or condominium.

NON-CONDENSING
Operates down to 105 °F return water temperature without condensing – perfect for the low temperature needs of radiant floor and snow melting systems.
BUILT-IN PUMP AND BYPASS
Offers maximum application flexibility.
HONEYWELL IID IGNITION
Standard S8600 IID eliminates off-cycle fuel consumption; Standing pilot available on Models 90-180.
"SPARK-TO-HOOD" PILOT
Eliminates erratic pilot ignition and lockout.
MOTORIZED VENT DAMPER
Prevents heat loss during off-cycles.
ELECTRONIC CONTROLLER
with outdoor reset varies the setpoint as the air temperature changes.
Avilable for natural gas or propane.